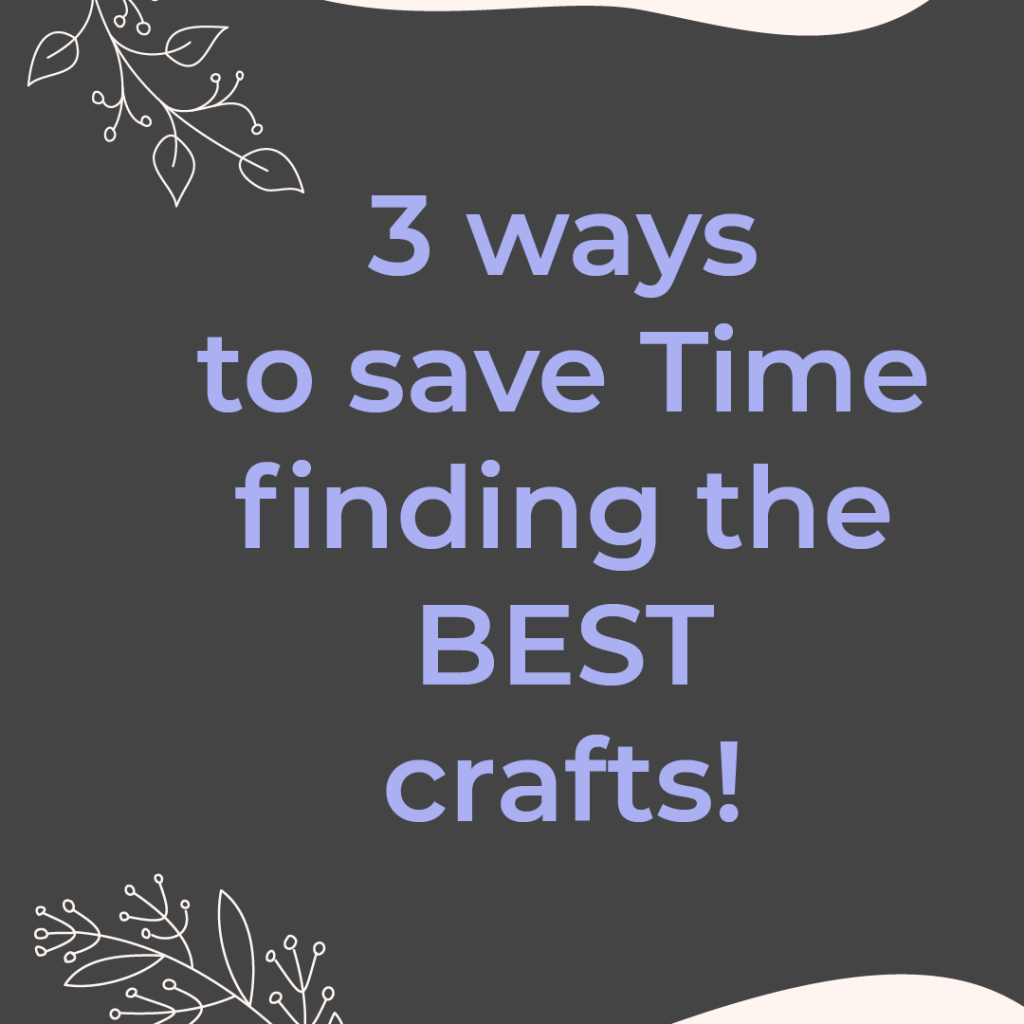 If you are a little like me you can easily get lost while searching for the best Craft Ideas. I have tons of ideas, but I am still searching the Internet for the best crafts. In this article, I will tell you the 3 ways to save time finding the best crafts, I use.
Time is flying by
Especially to overcome wasting too much time on searching. If I start without a plan I end up scrolling and clicking from one beautiful idea to the next. Around every idea, there are other ideas. Before I know it I am pinning and saving tons of ideas and the time is flying by.
Now on to the 3 way to save time finding the best crafts:
3 Ways to save TIME finding the BEST crafts
Make a list before searching
So to keep me from spending too much time upfront and leaving more time to spend on making the crafts. I start by making a plan. That sounds like a lot of work but bear with me.
After testing this out I discovered I saved a lot more time than I even imagined possible.
Before I start searching I write down:
The materials I want to use. For example paper, vinyl, faux leather, wood, etc.
The kind of craft I want to make. Cards, Decorations, presents, boxes, Decals, etc.
How many different crafts I want or need to make
Of course, you can add to this list. The more details you know about what you are looking for, the more time you can save.
If you think you don't know what you are searching for, start with what you do know. You probably have a preference of material you like to use, or you see what materials you have available. Then the other questions are easier. If NOT try to choose 1-3 different kinds of crafts and start with that.
After doing this a few times you will notice you find your preferences because you look for them now. Next time it will get easier and you will get better at this.
TODO: Make a list with as many details as possible of the Crafts you are looking for.
Make separate Boards on your Pinterest account
I have several boards on my Pinterest account that hold my favorite crafts. Some I keep hidden because I don't want to spoil what I am making for my family and friends. After the Holidays I transfer some of those pins to my regular boards.
If you don't have special boards yet, I would suggest that is one of the first things to do. You could make just one board that holds all your pins for Christmas Crafts, but probably you are soon to discover that your board is so crowded that you can't find anything.
So if you pin a lot and want to get back to those pins year after year it's a good idea to get a little organized upfront. With sections, you can even organize inside your boards to keep things tidy and easy to find later.
The list you made can help you with that.
TODO: Make one or more boards on your Pinterest that match your list, so you can organize your pins fast. Consider making sections to organize inside your board.
Use Hashtags and Save option on Instagram
If you are a crafter like me the possibility you have an Instagram account is big. If not you should (could) get one. Instagram and Pinterest are the best platforms when it comes to inspiration. But they are quite different.
On Instagram, it is much harder to find something you like and find it back another time.
But of course, there are ways to tackle this.
First, you can use Hashtags to find posts with content you may like. Use your list again to find hashtags (keywords) to search for.
When you find a great post you want to find again later, use the save button to save it to your profile. Only you can see this.
TIP: Because the save option on Instagram is limited, it's a good idea to share the post to your Pinterest board where you can organize and find it later.
Conclusion
The conclusion of my little test is that when I prepare a little, I can save a lot of time. Too often I just browse around and see something nice and pin it, then I see something else beneath that pin that's really creative and so on, and so on….
If you really want to save time for the good stuff I have one more BONUS tip for you!
It's a no-brainer, but still….
DISCIPLINE, Give yourself a timer of some kind, to keep you focused on your task. Believe me, if you do that your search time will decrease drastically.
I love saving time to do the things I love the most the majority of my time and keep my tasks to a limit that keeps me from stressing out. (Thankfully I am no stress tornado but around the Holidays….)
What do you use to keep you from browsing through all those great and fantastic crafts out there and spending hours online?
Let me know in the comments and I might learn a trick or two from you.