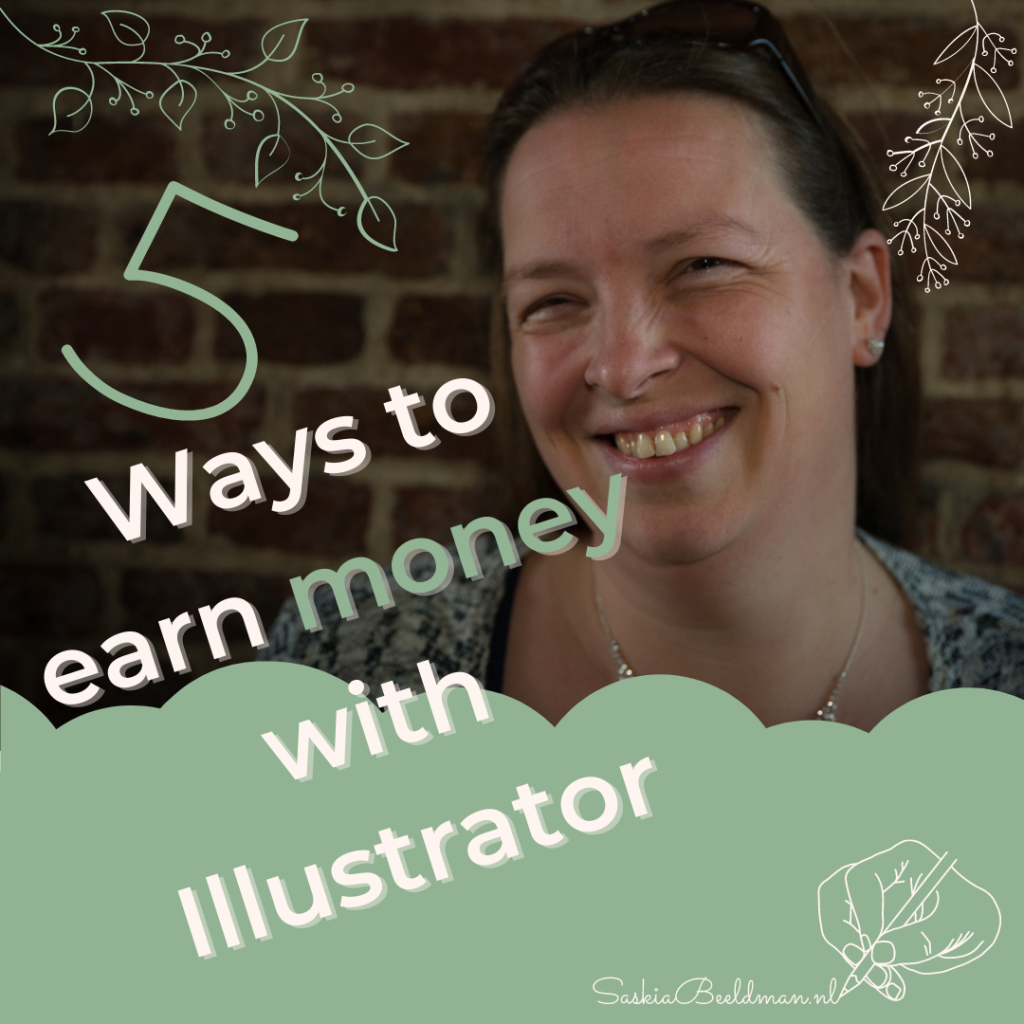 In this article, I show you 5 ways to earn money with Illustrator. Of course, there are much more ways, but let's start easy.
When you just start out making your own designs it is better to start making and selling than wait till you can make the perfect designs.
You will learn more skills along the way while you already make some money. By starting with some simple things you gain confidence and experience.
Experience is what leads you to be a very good Designer/Illustrator, so don't make it too hard in the beginning. Start with something you like and isn't too hard to do in Illustrator. If your skills grow you can add other things to your portfolio.
Let's see which ways are not too difficult and help you be the most creative person you can be while helping others that excel in other areas.
1. Make and Sell Logo's
Almost every business has or needs a logo. To be able to use this logo in every thinkable and scalable way, it's a good idea to make a vector logo in Illustrator. A lot of businesses that start out need a logo or want an existing logo to be vectorized. Even existing businesses change their logo from time to time.
These days the most famous logos are built out of simple shapes and even only text. This is a great way to learn Illustrator without having to learn the whole program at once. Being able to draw some basic shapes with the build-in tools and use the Type Tool to make some text will allow you to produce a beautiful logo in no-time.
Affiliate link to SkillShare Logo lessons
2. Make Designs into SVG files for cutting machines like the Cricut or Silhouette
The cutting machine for the home user or small business (Cricut, Silhouette, Scan N Cut) is growing rapidly. Almost anyone can start their own creative business from home and sell on Etsy for example.
If you are not the creative that wants to make creative stuff that you need to send by mail or you want to expand your mail-based business, then making SVG cutting files is a great way to start or to expand.
People buy SVG cutting files online to use with their Cutting machines to make little presents, personalized products for weddings, babies, birthdays, Holidays, and Home Decor. Some of these niches are pretty big and there is a lot of demand for pretty SVG files.
To make SVG files you can use the build-in Tools in Illustrator to start out quickly and start selling in no time.
3. Become a Surface Pattern Designer and sell your Designs on POD websites
Maybe you never heard of Surface Pattern Designer, I didn't hear about it till about two years ago. When I learned what it was I was amazed.
Look around you right now and count how many patterns you see around you. In the curtains, your clothes, the floor, the walls, etc. I think you can find at least 5 patterns in a few seconds. All those patterns are made by Surface Pattern Designers. If you look at the words it will make sense. Almost every surface (counter, wallpaper, curtain, clothes, I can go on forever 😉 ) has a design. From very basic (just a little line) to very complex (multiple shapes layered on top of each other).
Walk around your house or office (or both as working at home mom) and notice how many products in hour home/office have a design or pattern on them. Your bedding, kitchen (tea) towels, pillows, and other home decors.
I think you get the picture and I didn't even start talking about the holiday season when a whole new decor comes into our homes and offices.
Making designs and/or patterns to put on all of these products is easier than ever before. With all the Print-On-Demand (POD) website these days you have more options than ever without breaking the bank to start your own business.
There are some neat tools in Illustrator that can help you create beautiful designs and patterns in no-time without having to learn the whole program before you can start. You just need some basic tools in Illustrator to get you started!
4. Make and sell Social Media Templates
In the first, option I talked about logos. Every business needs one and updates its logo now and then. Every business has some sort of Social Media one way or the other or wants/needs to have one.
To be successful on Social Media one of the lessons is that you need to be recognizable without always putting your logo on every image. You need branding with colors, logos, and fonts.
With just some basic tools it is very easy to make images or overlays for images to use on your Social Media in different sizes for every platform. Make a few different styles to sell online or change the colors, fonts, and logo for a client to sell them to.
5. Make and Sell Fonts
Fonts are widely used in almost any sort of business. Isn't it for branding then it is to make beautiful phrases or SVG's to put on a t-shirt.
If you like making your own alphabet, this is something you can do with Illustrator. There is a great plugin that isn't very expensive that helps you with converting the letters to a font so you can sell them online.
Conclusion
These are just 5 easy ways to use Illustrator to start your own business from home or scale your business online.
With all of these options, you don't need to know everything to get started. Getting started and just put your work out there is most of the time harder for a lot of women than the skills you need to learn in Illustrator.
So what are you waiting for….!
Need any help with how to get started?
In my FREE FB group Illustrator Artists, I help women that want to learn Illustrator and earn their money from home. In this group, you will find like-minded women that love to learn Illustrator. I will share tutorials and answer as many questions as I can.
If you want to get started as soon as possible I offer a course where I teach you how to get started quickly with some neat build-in tools that Illustrator offers.