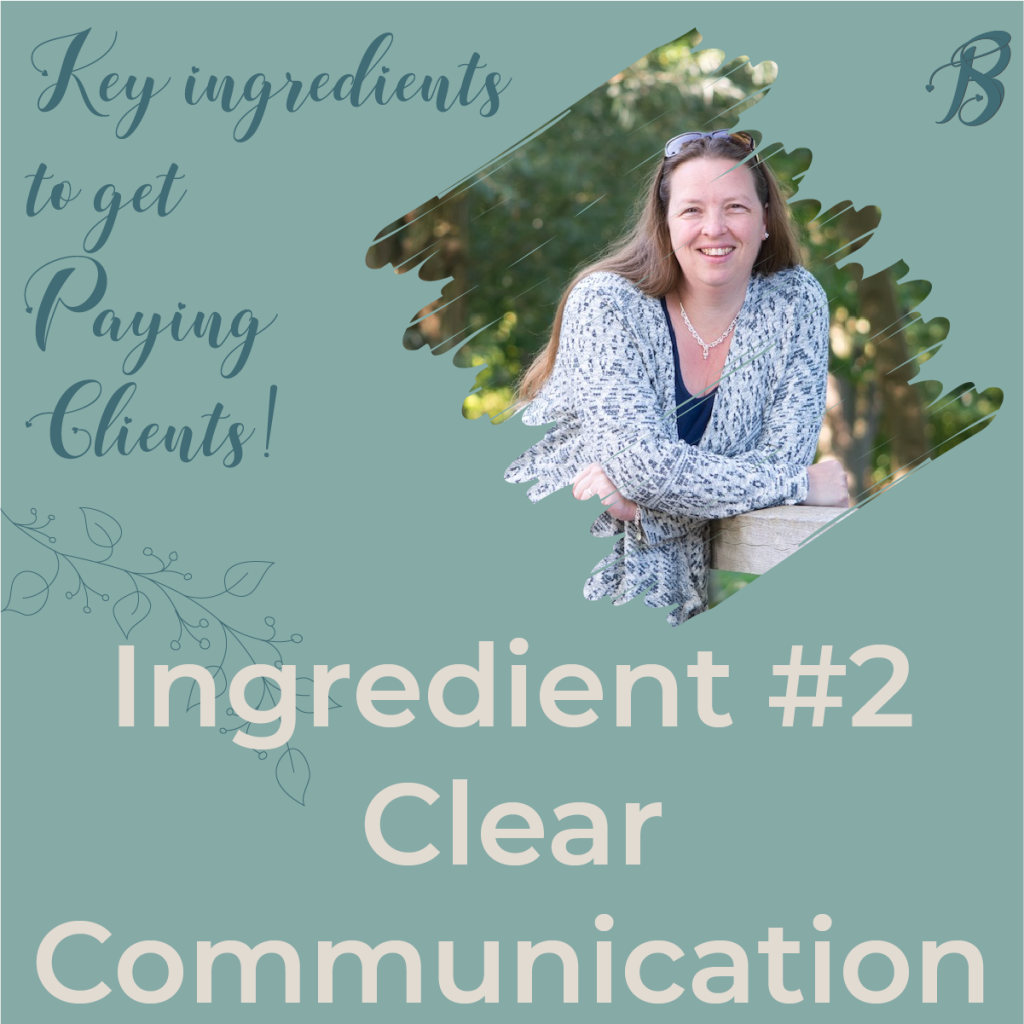 First: what is clear communication?
Clear communication is made out of several components
Hook (title, image, etc.)
How to get the attention of your audience
What is your message
Use words and phrases your audience understands
Call to action (CTA)
What do you want your audience to do after reading your message?
Let's break them down
The first component – Hook
The first component is really important because if nobody reads your message there will be no action. That's why we call it the hook, it's what hooks the reader to read on.
To stand out in the crowd you need to make sure your message is remarkable
On Social Media you want people to stop scrolling and click your post. You want people to open your email or read your chats. So titles and images are the most important thing when it comes to getting the attention of your audience
Make your titles and images engaging and clickable
You can use the pain, desire, or dream of your ideal client to hook them into your message
The second component – the message
You want to be brief and to the point with your message. Even when you use a story to engage your audience don't make it longer than necessary.
Use simple words and phrases your audience can understand to give them value
A message that is only talking about how good a product is or is only SENDING a message isn't always the best way
More and more are people looking for that connection. They like to recognize themselves in your story and want to know how you solved your problem.
So don't be afraid to use your own experience to tell where you struggled and how you solved it
This could be a product or a service you sell that solved your problem. You can deliver the message in a lot of ways but always be intentional if you want better results.
What I mean by that is…
The third component – Call to action
Even if you use personal stories to give value to your audience and engage with them, make sure you write with intention. So what is the outcome you expect from this message?
That can be as simple as getting likes or comments but maybe you want them to do something else after reading your message. Don't be afraid to be very clear about what you expect and tell them what you want.
Don't ask too many things in one message because it will result in no action at all.
So choose for every post very intentional what you want as an outcome
examples could be:
Indirect sales (make a connection):
Follow you
Like the message (post)
Share the message
Comment the message (reply to mail)
Check out your account on another platform
Download an incentive (mailing list)
Direct (convert to client):
Buy now
Go to my shop
Get this discount
Now you know how clear communication looks like and I want to give you a bonus tip before we wrap this up.
These components don't only apply to your written messages but also apply to video messages
Video is getting more and more important to make a real connection with your audience and it has the advantage of bringing more than just words.
In a video, people can relate to you on more than one level. Your words but also your body language. It is the closest to a face-to-face meeting you can have online.
So my tip is…
Try to use some kind of video messages in your communication
Examples of video communication can be:
In person:
You on a video answering questions or explaining something
You welcoming people into your online community
Behind the scenes video
Sending a thank you video to your customers
Sending a video to followers or people that DM you
Not in person:
Recording your screen while you explain software or something else on your screen
Making a video of a product and how to use it
Making an animation
There are lots of examples!
I hope these examples help you to choose what works for your business and for you as a person.
Of course, you can combine the examples in this video to make a versatile communication machine for your business. Using video in your communication can help with making your communication more clear and more personal.
In the next weeks, I will make a video about every ingredient in detail.
As soon as the video is up I will link it up here in this video and in the description.
If you think this video was valuable, please share.
Need HELP cooking this recipe? I can help you!
Book a call with me NOW!
Join my FREE FB group where I mentor & teach women that want to start or just started their Creative DREAM Business with Illustrator. You'll find like-minded people, tips, resources and you can ask me any question related to your Business or Illustrator.
Would love to meet you https://saskiabeeldman.nl/join-illustrator-artists-help
Share this video if you think it's helpful to others and join me in my FB group where I personally answer your questions