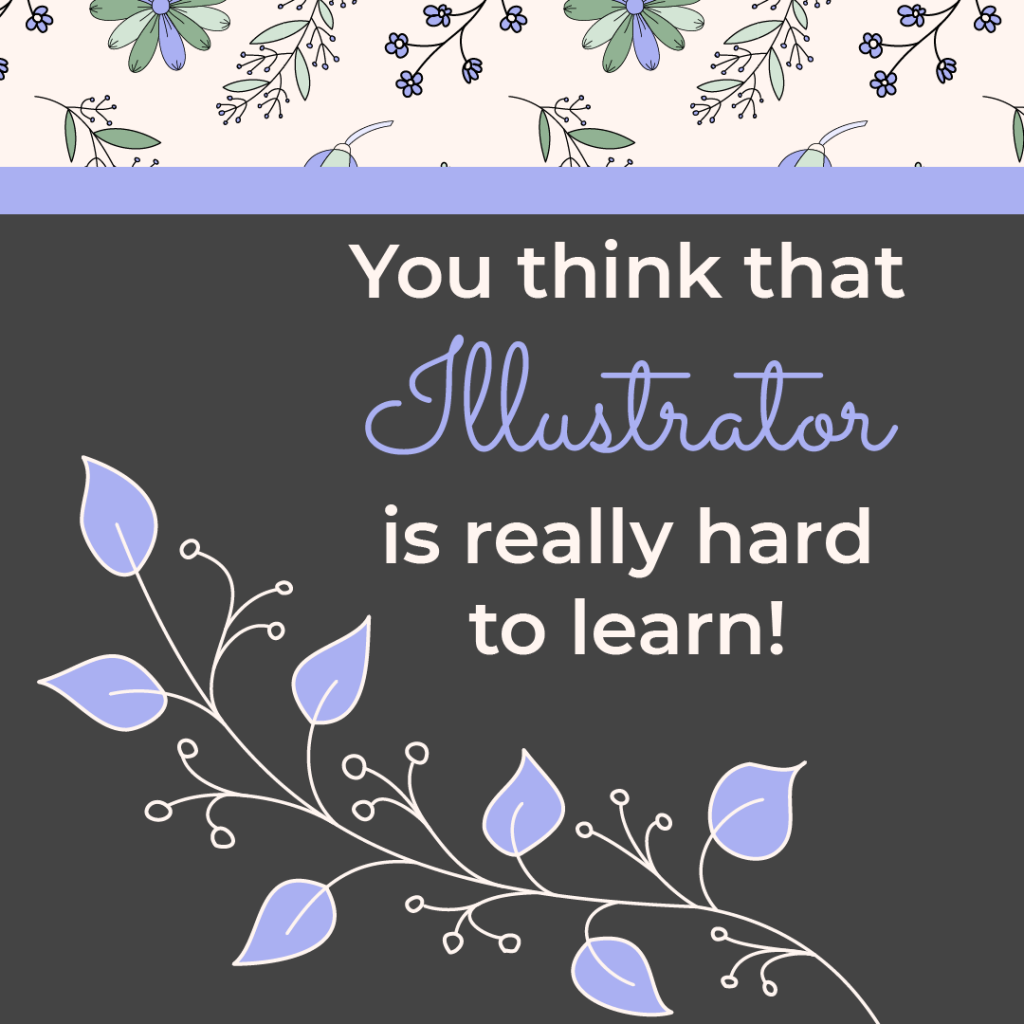 You admire all those creative people making their own personalized projects in Illustrator. You feel like you never could learn that! But is learning Illustrator hard?
Is this you?
Then I have some good news for you!
First of all, I believe people can do anything regardless of their intelligence. Because even intelligent people have things they are not good at!
Second I believe that if you want something really bad. Or you have a passion for something, you can learn that.
How do I know this and why do I believe this?
Mostly from experience and a little from people around me. For almost 14 years I have a business, but I wasn't always successful. Not success in the way that it brought me enough income to provide for my family.
When it didn't work out I wasn't doing where I am passionate about.
At the time I was excited and worked my bud off to get the results I wanted. But I choose a lot of projects thinking I good earn money.
I didn't really do what I love most.
Helping people in a way I am good at was not what I did. I tried, but it just didn't fit.
In the last decade, a few coaches and pieces of training where I learned business skills further. Mostly I learned who I am and what to bring to make the world a better place.
Passionate about something
When you are passionate about something then you have no problem giving it your all. You want to learn because you love to do it.
Having some patience with yourself can be hard. But I promise you that if you only have a little patience with yourself, you can learn much more. You will even learn more difficult things than you think.
Why I love to teach Illustrator!
Last year I finally had the guts to follow my dream and completely start my business in a new niche.
I used illustrator, photoshop, and Indesign to make websites, business cards, and a lot more promotional designs for business owners.
It just wasn't it, but I love working with the Adobe programs and use them daily.
So I started using my knowledge of Illustrator to make art. During the last year, I have been working on my drawing skills and I can say I can draw now!
I love drawing and I am getting really good at it. There are also still things I am learning.
Teaching other people has always been something I love. I did some workshops with elderly people a few years back. The feedback is that I am so patient and make the steps so easy and manageable.
So this year I gave private lessons and I noticed that it gives me so much energy. I love it when a student works hard and it finally makes sense. The expression of succeeding on their face is worth more than money.
Is learning Illustrator hard?
The million dollar question: Is learning Illustrator hard?
On the internet, I see a lot of websites and forums state that learning Illustrator is hard to learn. Some say it has a steep learning curve.
Although I get what they mean, I don't necessarily agree.
I believe when someone is passionate about something they can learn anything.
Maybe you tried learning Illustrator in a classroom or online and you didn't know where to start. Or you felt dumb because all the other students got it much quicker.
This can cause the feeling of being too dumb to be able to learn it, may even feeling stupid!
If you read it so far I assume you really like to learn Illustrator. You might just have too many bad experiences or maybe even people who told you that it is too difficult.
I think that if you really want it, you can!
How can I help you?
With over 20 Illustrator Snippets on my Instagram IGTV channel that you can watch (FREE of course)
A Facebook group where I want to HELP people like you. To ask your questions and share your progress with like-minded people. I made the group private and providing an email-address mandatory. To make sure that the group is filled with serious, respectful people that join to learn and to help others.
Several times a year I host a series of masterclasses you can join to get started with Illustrator. I will be guiding you LIVE through the masterclasses in very small groups. And give you step-by-step exercises and homework to practice the skills you where taught in the masterclass. There is plenty of room for questions. You will even be able to track your progress in the FB group
If you already have some basic skills or entered my LIVE Masterclasses mentioned above. I have a 3-month program where I will give LIVE masterclasses more in-depth and guide you through the process.