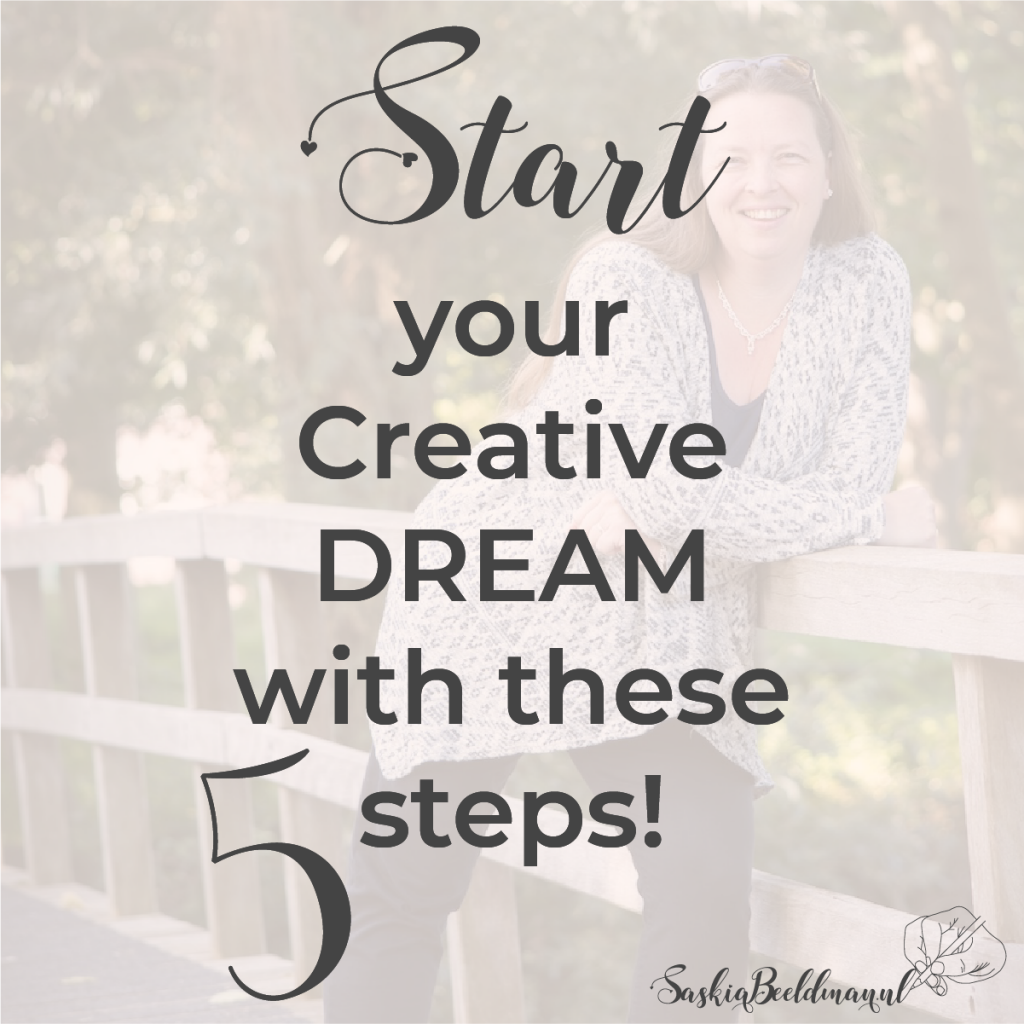 When you start your Creative DREAM Business with Illustrator it's exciting and terrifying. That's why I am writing this article for you.
If you take little steps at the time it's not as overwhelming and scary as you think.
Maybe it isn't going very fast but if you keep taking little steps forward you will get your Creative DREAM Business.
Little steps make it less scary and overwhelming!
In this article, I'll take you through 5 steps you need to decide on before starting your journey. If you finish these first 5 steps you can start.
NO, you don't need to finish a time-consuming or expensive logo/website/brand to get started. A lot of people waste time and money making sure that everything is perfect before starting. And when they finally are ready (if that moment arrives at all) and launch their website/social account or whatever they have been working on. They sit back and wait for the customers to come in. Sorry, this is not how it works!
Don't waste your time and money on being ready!
The best way to have success is getting out there and realizing that you are never finished and it is never perfect.
Doing is better than perfect!
You'll learn so much with every step you take that your idea of "perfection" will change with you. So it will never be perfect because every time you are almost there you have learned and changed so much your image of perfection will have changed too.
Perfect doesn't exist because it will change with you and will never end changing!
5 steps that you need to take to start your Creative DREAM Business with Illustrator
Choose how you want to sell your designs – on products or as digital downloads

Sell your designs on multiple products yourself or sell your design for shop owners. If you sell your designs as digital downloads the buyer can use your design in other projects or on products. It depends on the license they buy. Are you ready to give a license to someone else to use your design in their projects or sell it on products?

Choose a platform/site to sell your designs

Start with one platform/site and make sure you know the ins and outs of this platform/site. Every platform/site has its own algorithm or rules that work for their public. To get you in front of potential buyers you need to know which rules to follow and which steps to take to get seen and rise above the crowd.
Use SEO to speak to the people who would buy your product. Every platform/site works in some way with SEO (Search Engine Optimalisation). Every platform/site uses its own algorithm and that's why it's important to know what works on your chosen platform/site. Choose one to start with to make sure you don't get overwhelmed.
If mandatory apply to get in. Some platforms/sites ask you to apply and send a portfolio and some other information. I would suggest you look at those sites after you have gained some experience/success and build a portfolio on your first chosen platform/site.

Choose a platform to promote your shop

Start with one platform where your potential customer is and connect with them there. The same here as your selling platform/site. Choose a platform where your potential buyer is present and where you can connect with them on a personal level. Start a real conversation and you will create ambassadors and happy customers.

Make your shop look nice and fill your shop with at least 10 products

Make sure your shop looks ready for customers and has some products in it. Your "shop window" is what pulls customers in. If your shop is empty or not inviting, people won't buy and won't come back.
Be sure to add new products regularly. After starting your shop don't forget to add products regularly so buyers can see you have more to offer. It also helps with being more visible on the platform/site of your choice because active members are always rewarded on every platform. If the platform can earn money from your sales it will make your products more visible to customers!

Promote your shop

Now start promoting your shop to family, friends, and on your chosen platform. Don't be shy and start telling friends and family about your new DREAM business. They already know and trust you, so even if they don't buy they could be ambassadors for your shop/site! Don't forget to ask them to share and help you to get the word out. You can even ask for their feedback or ask for suggestions for products to get them involved.
Of course, these are the 5 steps to get you started. After that, it is only just beginning. Please remember to take it one step at a time. Rather take small steps forward than starting to throw spaghetti at the wall and getting discouraged.
Need HELP taking these steps? I can help you!
Book a call with me NOW!
Join my FREE FB group where I mentor & teach women that want to start or just started their Creative DREAM Business with Illustrator. You'll find like-minded people, tips, resources and you can ask me any question related to your Business or Illustrator.
Would love to meet you https://saskiabeeldman.nl/join-illustrator-artists-help
Share this video if you think it's helpful to others and join me in my FB group where I personally answer your questions